August 2019
| Mon | Tue | Wed | Thu | Fri | Sat | Sun |
| --- | --- | --- | --- | --- | --- | --- |
| | | | 1 | 2 | 3 | 4 |
| 5 | 6 | 7 | 8 | 9 | 10 | 11 |
| 12 | 13 | 14 | 15 | 16 | 17 | 18 |
| 19 | 20 | 21 | 22 | 23 | 24 | 25 |
| 26 | 27 | 28 | 29 | 30 | 31 | |
Calendar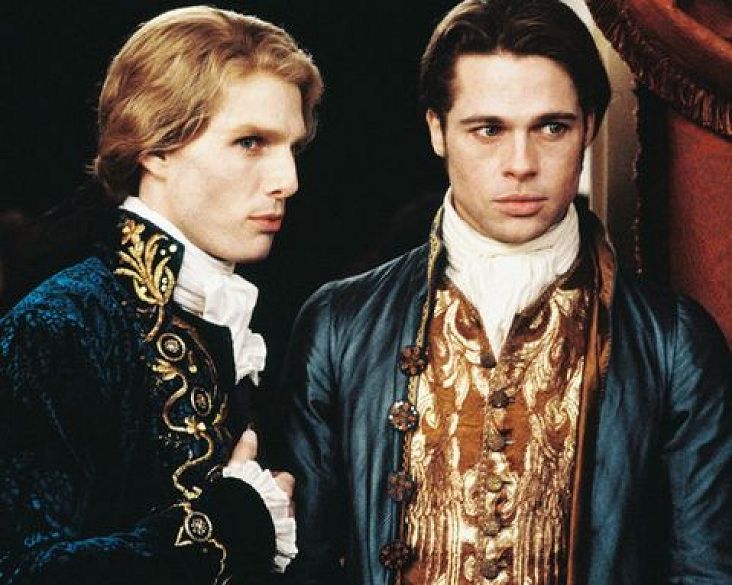 Abel Beaumont
The Basics

First Name:
Abel
Middle Name:
Damian
Surname:
Beaumont
Gender:
Male
Age:
20-22 (250)
Species:
Vampire
Sexual Orientation:
Bisexual, leaning towards gay.
Appearance
Hair Color:
Blonde
Eye Color:
A smooth and glassy grey, until he is being passionate (they turn pale vioelt) or hungry (turn pale red)
Skin Tone:
Rosy gold usually, but pale when in need of blood.
Weight:
Despite his height, he is very lean: 175 lbs.
Height:
6'0
Clothing Style:
Abel is a bit of a diva...He tends to wear the clothes of a 1700's aristocrat. He wears flowing shirts of the finest cloth, and is almost never caught without some sort of gold embroidery on his clothes. His shirts are all well-made and have a royal look to them. His pants are often times a bit on the tight side to accent his body and to make the flowing and often times poofy shirts looks even more flowing and poofy. He wears a gold ring with the word "Cursed" enscribed on it, and he considers it his engagement ring to the life of a Vampire. It never leaves his person. EVER.
Destinct Markings:
His skin is flawless and smooth in every way.
Let me see the power
Special Ability:
Along with regular Vampire Abilities and the usually present Telepathy, Abel can use:
Call To Darkness--Forms a strong mental, physical, and psychic bond between him and any of his fledglings, therefor making a net of life force between them. Abel can "call" the others to him, essentially transporting them to wherever he is. He can also use this to sort of "sap" life force from the others, bringing him back from death or near death. (NOTE: He can only be brought back from full death 3 times, and he has already used ONE of those times.)
Element:
Fire
Other:
Strength, Speed, Telepathy, Pyrokenetic, Telekenisis. (If that's too much, let me know!)
Personality
Personality: Abel is bold, enthusiastic, and a wee bit defiant. He has never conformed to the ways of society, nor does he intend to. As mentioned above, he is a bit of a diva and will sometimes pause mid sentence, to make sure that whoever he is talking to has noticed his fine apparel. He loves music, arts, and just like any other red-blooded male would, he loves women. Although he is open to men, women seem to be a large part of his life.
The first language he ever learned was French, and he speaks it fluently. He also speaks English fluently, but not with as much happy "gusto" as when he is speaking French. He writes poetry and novels as well, and has already published one under the title of "A Faith Lost to Hell".
Although Abel can be a royal in pain in the -er- behind, he has a loving streak. He will never turn down someone who needs help, although the way he presents this help may not always be favorable. Abel is always plagued by common philosophical questions, such as "Are my actions good or bad?", "Is there a God?", "Am I in His plan?", "What happens after death?", and "What makes a person happy?" He finds himself more in love with humanity than ever before, despite his past relationship with mankind being savage.
Abel gave up on religion long ago, when he actually died and was sent to Hell. There he met the true meaning of hatred, anger, sorrow, and despair, as well as God and the devil themselves. In short, they were both unfavorable to him, so he turned his back on both and left Hell, salvaging enough life force from his living feldglings to return.
Likes:
Dislikes:


Ignorance

over-confidence (unless it's his own)

irrelevance

History
Date Of Birth: November 7th 1760
Parents: Both of Abel's parents are long dead, thanks to his own doing. He considers his mentor his father. (Mentor: Sean McMoore)
Siblings: Belle Beaumont, Sarah Beaumont, Alexis Beaumont, Calvin Beaumont, Redd Beaumont, and Salvador Beaumont. (All deceased. Yes, he was the seventh son. *Unlucky in legends*)
Good Life Memory: Possibly the first stage of dying, which was feeling absolute rapture and bliss.
Bad Life Memory: His father abusing him.
History: As a mortal man, Abel came from a troubled family. His family were all aristocrats, and tried desperately to enforce rules on him. Of course, Abel refused to follow, and eventually ran away from home. He liked his mother, Genevieve Beaumont, and often told her of his dreams of killing his father and his siblings. They never treated him with respect anyhow. His mother could only try and soothe him at night when he cried out for freedom from the living hell that he had been born into. His father was abusive, and his siblings shunned him. He never accepted his father's sharp tongue or forceful blows, he always struck back or cried out, or tried to run away. When he was 17 years old, and he tried to leave the house, his father shot him in the leg and challenged him. "If you, a damned child with a lame leg, can make it in this world. You can come back and kill me in two years." Abel never cried. He never even winced. He simply crawled away into the night. Finding shelter in the forest behind his house, Abel almost died that night. But Sean McMoore was not the type of vampire to let his pupils die. He had been watching Abel, testing him. When he saw Abel in this state, he revealed himself.
"Who the hell are you?!" were the first words Abel ever spoke to Sean. Sean simply laughed. He explained that he was a vampire, and that he could help Abel. That he could give Abel the one thing he REALLY wanted. Revenge. So Abel chose to follow Sean and become a Vampire. They trained in secret, lived in the mountains, and Abel learned many things from this Vampire. When two years had passed, he got his revenge without hesitation. He killed his father, and his siblings as well. His mother, the only one he left alive, commited suicide as soon as she found out what her son had become. Abel fell into a deep depression after this, and soon he was considering death himself.
By the time he was 100, Abel had accomplished many things. He had fourteen feldglings, all who have gone their seperate ways by now. He had been to Hell and back. He had become a musician. He had become a novelist. He had become a poet. He had left his master to become better than what he already was. He began to focus on himself after that, learning what he was really made of. He tested himself, he tried new things, he explored life freely for the first time...This was true freedom. And so our modern day Abel begins...
Lackey the Delivery Dwarf





Posts

: 12


Join date

: 2010-08-03



Most Awsomely awsome Admin Cassie





Posts

: 334


Join date

: 2010-08-03


Location

: Hm... Behind yeh




---
Permissions in this forum:
You
cannot
reply to topics in this forum